Cinderella's Closet began as a ministry of Immnauel United Methodist Church in Lakeside Park, KY in 2006. It's an effort inspired by a teenager, our founder, Erin Peterson met while shopping at a consignment store. Erin overheard the teenager ask a clerk if the beautiful, gently-used gown on display could be put on hold while she figured out how to pay for it.
She asked her foster mother for the money, but a prom dress is an extra in life, and its price was out of their reach. Seeing her disappointment, Erin bought the dress for her. As tears flooded her eyes, said she would look "just like Cinderella." For one day, a little girl was transformed into a princess.
Erin was transformed as well. Shortly thereafter, Cinderella's Closet became a ministry of Immanuel United Methodist Methodist Church. Each year we are able to help nearly 450 girls in Northern Kentucky find the dress of their dreams and renewed confidence in themselves.
What started as one dress for one girl, has now grown and we are blessed that other churches have been led to begin Cinderella's Closet ministries as well. Check out our locations and see if there is one near you. If there isn't, think of starting one of your own – Contact Us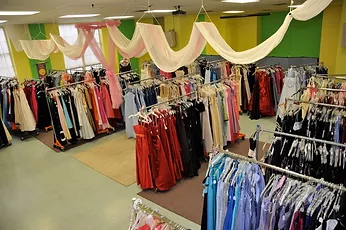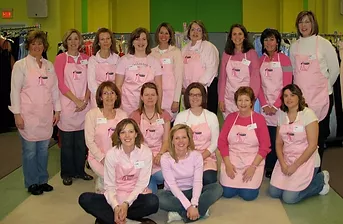 Cinderella's Closet 2007; the very first year that
we "Turned Dresses Into Dreams"
Begin Your Own Cinderella's Closet
Begin Your Own Cinderella's Closet and Start Turning Dresses Into Dreams​
If you have a heart for showing God's extravagant love to girls in need, Cinderella's Closet just might be the ministry for you!  We would love to help you show girls that they are loved and cherished in this world by providing an amazing experience at your own Cinderella's Closet.  You'll be providing them a dress too, but that's just a small part of the mission of Cinderella's Closet.  Here are some guidelines to help you "Turn Dresses Into Dreams".​
Please review the requirements and information below and contact Erin Peterson, our Founder and Director, if you are ready to become an "official" Cinderella's Closet ministry. We would be so excited to talk to you about the possibilities. Please note that all new locations must have the approval of our Founder and must sign a Partnership Agreement between Cinderella's Closet of Immanuel United Methodist Church and your church Administration. This process ensures that the mission of Cinderella's Closet is upheld and that there are not multiple Cinderella's Closet locations within the same service area. We try to establish Cinderella's Closet locations at a minimum of 90 miles apart. Please check and see if there is a Cinderella's Closet already in your area. Each Cinderella's Closet location is ALWAYS looking for help with the ministry and you could be just the person!​
Adopt the Cinderella's Closet Mission – While you will be an independent ministry of your own church, we only ask that if you choose to use the Cinderella's Closet name, that you also will use our model of showing grace and love to girls that visit – as opposed to just giving dresses. We would require that you are listed as a "location" on our website. This also means that we would be happy to link to your own website, let you utilize ours as a template, or allow you to place a "page" on our website where you provide the content. We have found that most of the information the website gives is the same for all organizations regardless of location. 
Talk to your Church Family and Admistration – Each location of Cinderella's Closet is a ministry of their local church. This is for three reasons: (1) We believe that being a minsitry is the best way to show God's love and to let others know you are providing dresses for one reason only, to show love, grace and respect to those that will "dance through your doors", (2) You will instantly be a part of a 501c3 organization able to take tax deductible donations and you will already have an established support system, and (3) We are a small organization made up of friends and we simply do not have the capacity to oversee an "umbrella" organization. ​
Form a Committee – Beginning a ministry like this will take time and commitment – get a group of your friends together, share the Cinderella's Closet vision and see if they are willing to help you take it on. We promise it will be an amazing gift not only for the girls that you help, but for those that volunteer as well. 
Contact High Schools – Start your ministry by visiting or calling the schools of the girls you will serve. We began by contacting the guidance couselors and asking if they would like to participate in the Cinderella's Closet program – most were very excited. These will be the people that refer girls to the program. ​
Develop A Donation Plan – How will dresses and accessories be donated?, where will they be donated? and where will they be stored? A great place to start is to ask high school and college student organizations to have a dress drive for Cinderella's Closet. Many students need service hours and this is a fun and excited event to hold. After you have received dresses, you will need a place to store them – your church and church family would be a great place to start. Maybe there is an extra room in your church or maybe someone owns a storage facility and would be will to donate the space. Remember the dresses will need to be in storage most of the year, so it is a pretty large commitment.​
Develop a Give-Away Weekend Plan – While this may take the time,energy and talents from many people, we think we have a pretty good plan and we are willing to share – this should make your learning curve pretty short. Currently, we are able to serve 450 girls in two days (Friday night and Saturday). It takes about 175 Fairy Godmothers to work directly with our princesses and approximately 25 additional volunteers to help with set-up and clean-up. It may sound like a lot but I know you can do it! You will just need to find a location – your church is a great place to start – they are normally under-utilized on Friday and Saturdays. 
Develop A Fundraising Plan – When I began Cinderella's Closet, I thought it would be free because all of the dresses and accessories would be donated. I quickly discovered that this would not be the case. Below are some items that you will need and an estimate of the costs.
Garment Racks – You will need to purchase "commercial" grade garment racks that are at least six feet tall to store your collection. Racks from retailers like Walmart or Target are not strong enough to hold formal gowns. Approximately 75 to 100 formal gowns will fit on one rack. Typical costs are about $70/rack, but racks can also be purchased less expensively or even donated from a store closing sale. 

Dress Hangers – While plastic or wire hangers might be fine for your closet – formal gowns need something a bit more substantial. Plastic hangers with turning metal hooks are the best, like the ones used in retail stores. These can normally be purchased very inexpensively from stores that are going out of business. 

Plus Size Gowns – Dresses sized 18 to 32 are normally not donated in the quantities that you will require. In fact, we purchase almost every plus size dress that we give away. In my experience dresses sized 18 to 24 can be purchased on sale (in the summer months) for under $40 a dress, but size 26 to 32 must be special ordered. We are currently able to purchase these dresses through a wholesale retailer for approximately $40/dress. Just to give an idea of numbers, we help 450 girls per year – we require 80 dresses sized 18 to 24 and 30 dresses sized 26 to 32. 

Dressing Rooms – Several dressing rooms will be needed for your Give-Away Event. Bathrooms or large areas for changing will not normally work. We have a terrific, mobile and adaptable dressing room design made of free standing wooden posts, dowel rods and curtains that would love to share with you if you wish. To build ours, we purchased the materials at wholesale costs and the labor was donated. You could also think about sharing this item with another Cinderella's Closet location near you – ours are shared between 3 locations in Kentucky and Ohio. They are only utilized for one weekend – why not share with others?